Budget-Friendly Kitchen Cabinet Refinishing Ideas
Cabinets are covered in a massive section of the kitchen. After all, that's where we store all our pots, pans, utensils, and other supplies used for cooking. They are just as beneficial style-wise since they significantly impact your kitchen.
Unfortunately, updating kitchen cabinets can be costly and sometimes breaks the budget!
So, try one of these refreshing, budget-friendly kitchen cabinet ideas instead of a complete overhaul!
1. Custom doors
You need not always buy an all-new cabinet to update your kitchen. Instead, We can add custom doors or drawer fronts to the existing boxes, giving a fresh new look without investing much money.
In addition, your old kitchen will have a contemporary look with a recycled glass countertop and a stainless steel backsplash.
2. Painting and staining
It is an inexpensive way to update your kitchen cabinets and make them like new again. The idea is in the light sanding between coats of paint to get a smooth and like-new look.
The process will allow you to remove the cabinet hardware, clean it thoroughly and paint or stain it separately. 
3. Get rid of the doors entirely
You could also remove the doors of your kitchen cabinets for a new look that is affordable to achieve. You could obliterate the doors and replace them with fabric curtains to give your kitchen a farmhouse feel.
4. Add a wooden splashback
Stained wood as a splashback is a great way to pimp your kitchen on a budget. It will interest and texture your space, and you might even be able to use wood left over from previous projects.
The simple open shelving above creates a rustic display for all your essential utensils. Opt for a neutral palette to make a soothing feel, plus it will sit well with store cupboard ingredients.
5. Turn a door into a noticeboard with chalkboard paint
Get a creative look and provides your kitchen personality by creating a feature wall using chalkboard paint. A division of black color, specifically designed to be drawn on with chalk, is a surprisingly fantastic way to add a refreshing touch to your kitchen space.
6. Replace the cabinet face
If you have cabinets in good condition, you can update the door style and make them look new. It is super easy if you have kitchen cabinets or somewhere designed to do this, but if you are working with anything else, you will have to do a little woodworking or order custom doors.
7. Show off your goods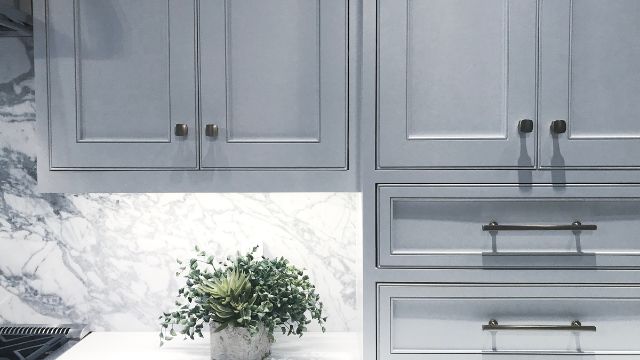 Removing a cabinet's front and arranging glassware and colorful bowls to create an eye-catching focal point. Bonus: add little hooks beneath a shelf to hold teacups!
8. Set up snack drawers
Set up wooden snack drawers that seem attractive, and we can store prepackaged healthy foods. So, kids can reach out when they need an after-school snack.
Final words
High efficiency combined with stunning aesthetics is a hallmark of good kitchen designs. Our experts at James B. Remodeling can help you design a budget-friendly kitchen cabinet that fits your budget.